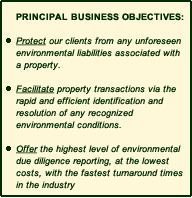 Since its formation, in 1993, PIERS Environmental Services, Inc., a full-service environmental consulting firm, serving the entire state of California, has emerged as the industry leader in providing superior quality environmental assessment reports with remarkable speed and precision.
With a staff of highly experienced and talented professionals, the company provides outstanding services, including: Identified Hazardous Materials Radius Reports, Phase I, Phase II and Phase III environmental site assessments and site specific comprehensive consulting.
Among the firm's staff and associate professionals are some of the most innovative and experienced scientists in the industry. All PIERS Senior Project Managers are fully certified with the California Environmental Protection Agency, Department of Toxic Substances Control as Registered Environmental Assessors (Level I and/or II). Additionally, all Phase II and Phase III project managers are registered engineers and/or registered geologists.
PIERS has a well-deserved, high quality reputation, having steadily developed hundreds of trusted relationships with: lenders, realtors, and investors associated with the successful investigation and cleanup of commercial and industrial real estate.
Responsive and dependable service is personalized to meet, and often exceed, client expectations, thus, PIERS has become a preferred environmental consultant for the majority of commercial lending institutions in the state. Keeping abreast of changing environmental laws and regulations, PIERS assures clients of accurate reports at a time when accuracy is a must!
PIERS Principal Business Objectives:
To facilitate real estate property transactions through the rapid and effective resolution of any environmental questions that may arise


To protect our clients from any unforeseen environmental liabilities associated with a property


To offer the highest level of environmental due diligence reporting, with the fastest turnaround times in the industry, at some of the most reasonable costs available.
Why Choose PIERS?
Superior Reports and Client Services
Simple Online Ordering
Expert, Certified Professional Staff
Competitive Pricing